The immense estate Harry left to Renée included choice property and leaseholds as well as valuable performing contracts and rights to plays, books, and short stories. Yet the Harris theatrical empire was on the brink of bankruptcy. The huge deficit the producer suffered in the Folies Bergère experiment, compounded with his death, threatened to deplete the multimillion-dollar fortune Harry had amassed. Desperate to keep her husband's business solvent, Renée disregarded the advice of Harry's father, Pop Harris, and the Harrises' attorney, Max Steuer, to liquidate her assets. "Sell everything," they instructed her, "and salvage money for your old age." The argument wasn't persuasive –– she was only 35.
"I told them Harry wouldn't have it that way," Renée insisted, and she called a meeting of his creditors. "Harry had confidence in me, and I have confidence in myself," she announced.
"You've got to give me a chance. I want to pay 100 cents on the dollar." Although she was informed "there is no such thing as a woman in the theatre business," she convinced her creditors to cooperate in a settlement plan. To satisfy immediate debts, she sold some out-of-town real estate and added her case to a class-action lawsuit against the White Star Line. She sued the Titanic's owners for $1 million, the largest amount filed, but eventually settled for $50,000, the highest sum White Star would offer a claimant for loss of life.
Apart from being a woman, Renée would face other challenges. Harry had started out with his family's wealth behind him, whereas she was now heavily in debt and her only real theatrical experience had been to assist Harry sporadically with technical direction. She had never handled the financial side of the business nor put an entire play through production. Yet she would succeed in not only producing plays but in managing the Hudson longer than Harry had. Resilience bore Renée through the grief of Harry's death and enabled her to confront an uncertain future without him.
The traumatic episode of the Titanic and the stress of resultant legal issues may have shaken her personal belief system. As she later memorably commented: "I had stopped thinking of God. God went down on the Titanic." Most friends knew her to be an atheist, even in her last years, yet in My Scrambled Autobiography, Renée wrote, "I didn't believe in God then. But I have found Him again." Whatever the source of her strength, Renée carried on. Devastated by Harry's death, two months passed before she could properly superintend the administration of the company that was now her own.
"I was in a dreadful state of nerves and thought I should never be able to concentrate upon anything again," she told the New York Times, "Then one memorable day I recalled the words of Mr. Harris: 'You are a better businessman than I am.'"
She not only took charge of day-to-day operations at the Hudson, Harris, and Fulton theaters but blazed a trail for herself as a producer in a field long monopolized by men. Charles Frohman, David Belasco, Charles Dillingham, the Shubert Brothers, and Florenz Ziegfeld were the scions of Broadway at the turn of the 20th century –– no woman had yet challenged their authority. That changed by the summer of 1912 when Renée tearfully but resolutely assumed control of one of the most extensive theatrical agencies in America. Since the sinking of the Titanic, life had passed by in a fog, she said, but it was time now to "go on living."
My first recollection is of the hour when I found myself sitting at my husband's desk in his office –– my doctor and nurse with me, I in paroxysms. They let me cry.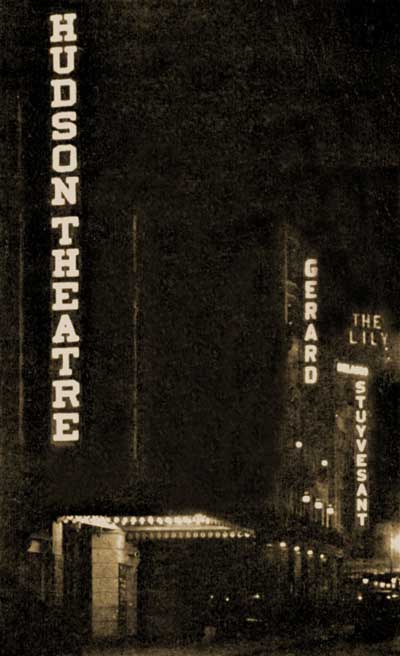 Renée assumed ownership and management of the Hudson in 1912 and ran it for 20 years.
Her decision to take over entirely was not one she made without realizing the difficulties she was facing. She also may have wanted to keep her options open, including selling the Hudson or other properties, as articles in the press as late as December 1912 indicate. It was clear from these reports that, while Pop may have been considering ways he could lighten his daughter-in-law's load, Renée would make the ultimate decision. On April 24, in a letter of consolation to Clara Butt, sister-in-law to Archie Butt, also lost in the sinking, Renée seemed determined in her "hope to continue the beautiful work my husband has already done."
There were those in the theater world who had anticipated Renée would take the helm of the Harris empire. A dramatic columnist for the New York Press opined on June 24:
Mrs. Henry B. Harris, wife of the theatrical manager who went down on the Titanic, is gradually renewing her interest in theatrical matters. She is arranging a benefit performance for one of Mr. Harris' philanthropies. I understand that her family hopes she may eventually assist in the production of plays. Why not? Mrs. Harris knows a lot about the theatre. She knows a lot about production. She was always with her husband at rehearsal. She is a gentle, kindly little woman with a lot of intelligence behind her kindliness. If I were a playwright and had a play, I wouldn't mind having Mrs. Harris produce it.
That fundraiser, for the Hebrew Orphan Asylum, a charity Harry and Renée had supported since early in their marriage, was the first step she made toward management and production as she arranged a concert and one-act play for the event. The Titanic still weighed heavily on her, but depression was turning to a steely resolve to keep her late husband's business afloat.

Renée posed for this photo in 1913, less than a year after she became Broadway's first woman producing manager.
"There was a time that I couldn't read or talk about the Titanic without emotionalism," she confided many decades later to friend Gregg Jasper, "but having passed through a period of survival, though it took many years, I can now do so with my emotions subdued."
The sadness she gave vent to in 1912 allowed her to move forward and resume Harry's lifework. In an article, Renée maintained that the responsibility gave her own life renewed meaning:
If I had not plunged into business, I should have lost my reason after living through that disaster. Idle grief would have driven me wild. So I took up the threads of my husband's work and with his father, Mr. William Harris, have worked shoulder to shoulder.
At first, Renée eschewed the fame that came her way as Broadway's first lady producer. "I always worked with Mr. Harris, assisting in the staging and technical directing of his productions," she told syndicated features writer Mabel Greene. "It only seemed natural for me to take up his work when he laid it down." In another interview, she simply stated, "I try to do things as I think he would have liked me to do them."
The sign "Henry B. Harris Presents" was "sacred" to her, she admitted. "Whenever I see it outside one of my theaters, it means that Mr. Harris' work is still going on, although he is not here to see it done. It means that I have lived up to the trust that he reposed in me."
For the time being, Renée preferred discussing Harry's accomplishments and praising his character. "My husband is tremendously missed by his colleagues and by the profession of actors," she informed a reporter seeking a story on her. "He was a much beloved figure among them." But she was finding her own voice and soon embraced the unique position awaiting her.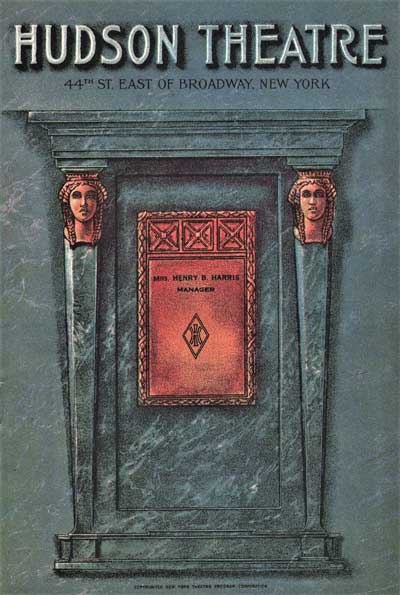 Hudson Theatre program covers did not acknowledge Renée's ownership and management until 1920.
"I believe I am the only woman producer in this country," Renée told the Boston Globe. "There are a number of actress-managers, but I do not know of any other woman who devotes herself entirely to the selecting, casting, and producing of plays as I do." She was right. Amelia Bingham, one of Harry's first stars, had briefly managed her own plays and, in London, actresses like Cora Brown Potter were both theater managers and producers. But until Renée's advent in 1912, a woman producing manager in New York was unheard of. She soon had competition. Everybody's Magazine pointed out that in the first 14 years following Renée's pioneering start, over a dozen women embarked on careers as theatrical producers. Similarly, a 1925 editorial about women in previously male-dominated professions observed that, although others had followed Renée's example in play producing, she was still the only woman producer on Broadway who was also a theater owner and manager.
The best known of Harris' rivals was Elisabeth Marbury, the era's leading dramatic agent who brokered the works of James Barrie, Arthur Wing Pinero, Edmond Rostand, and many another eminent playwright. After restructuring the American Play Company in 1914, Marbury's own initial foray into production was the hit musical Nobody Home, which she backed in association with Ray Comstockat the Princess Theatre the following year. Other major Marbury-Comstock shows were Very Good Eddie (1915) and Love O' Mike (1917).
Renée didn't receive the most enthusiastic welcome from the profession when she entered it in 1912. As she told the Boston Post some years later "theatrical managers laughed good-naturedly and shook their heads," adding that "they said I wouldn't last. Some of my best friends gave me only six months lease on life in the business."
For all her modern assertiveness, she was conventionally feminine – not unlike the well-bred but adventurous heroine of The Misleading Lady, a 1913 hit play staged at her Fulton Theatre.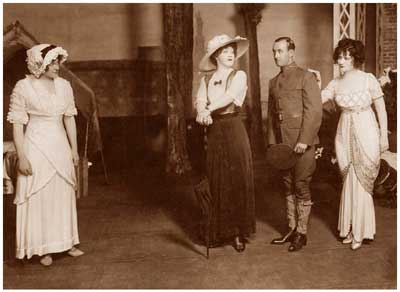 My Best Girl, a musical in three acts, was the first production overseen by Renée after Harry's death.
One newswriter, meeting Renée toward the close of her career in 1927, was struck by her warm, yet elegant appeal: "She is scarcely five feet tall, yet as she perches on her chair behind the massive, flat-topped mahogany desk, or glides on French heels across the Oriental rug, she somehow gives the impression of a vast dignity. She has brown eyes, a boyish bob and teeth that resemble rows of pearls. A metropolitan career has not abridged the graciousness of her manner nor tarnished the sincerity of her expression." Another reporter found her "common sense outlook" refreshing, moreover, that there "is nothing airy or pretentious about Mrs. Harris." The picture the writer painted extolled her sparkling eyes, "buxom figure and auburn hair," and a personality full of "vivacity."